"We give birth, we decide"
By Nanna Kirstine Hansen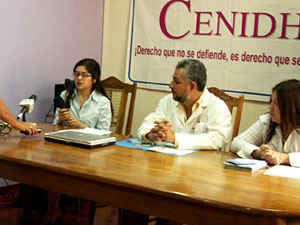 Today the campaign about maternal mortality and therapeutic abortion was started with a press conference in The Human Rights Centre CENIDH (Centro Nicaragüense de Derechos Humanos)
.
The campaign is set to go on for a month, where one the great activities is the march through Managua, 28.05.2007, which is the international day for women's health.
The two representatives for the campaign is Dr. Leonel Argüello, leader for CEPS (Centro de Estudios y Promoción Social) and member of the Observatory for the Right to Health in Nicaragua (Observatorio de Derechos Humanos en Salud Nicaragua) and lawyer Liliam Sepúlveda from the Centre for Sexual and Reproductive Rights in New York (Centro de Derechos Sexuales y Reproductivos de Nueva York) both seemed convincing and exhilarated in their argumentation, and from the press there was shown real interest.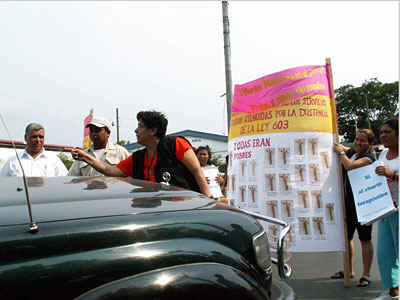 Both came with a scathing criticism of the Nicaraguan hospital service and their treatment of pregnant women, and the complex of problems about medical abortion. In the Nicaraguan debate, which has been going since autumn 2006, there has been a tendency to talk about medical abortion and free abortion like it was one thing, and today's press conference was used to dig the way to a more open and exhilarated debate.
Especially Dr. Leonel Argüello was capable to connect maternal mortality with medical abortion in an elegant and well-turned way. One of his more weighty arguments was about, after the pass of the law about the criminalization of medical abortion (law 603), is the treatment of pregnant has been reduced, as a result of the doctors fear to get hurt and kill the embryo and therewith risk term of imprisonment.
Later that day was the women behind the campaign in action again. Since the pass of law 603 November last year, some of the women-organizations have every Thursday stood in front of Supreme Court to demand their right to chose for themselves back.
Today they stood with banners, on where the names of those women who had died in the first three moths of the year were written on it, along with the number of those children these women had left behind.
With these banners, two chests that represented the dead women, and the catchwords: "We give birth, we decide", blocked the Carretera Norte, which is one of Managua's most busy highways, with regular space, which attracted many TV-medias and did all traffic redirected.
All and all an eventful first day.
Translated by Matilde Christiansen